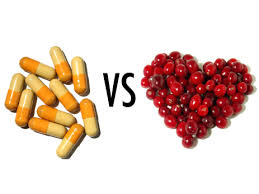 As the downsides of Western medicine begin to show themselves more and more prominently, many people are turning to natural medicine for real relief.
Pharmaceuticals create more symptoms than they fix (sometimes they even increase the risk of the very issue they seek to heal, as is the case with antidepressants). Antibiotics and other allopathic methodologies can only create further imbalance in the long run—attacking an isolated part of the body will always lead to some kind of retaliatory reaction, as evidenced by the rise of antibiotic-resistant superbacteria. Similarly, conventional cancer treatments nearly (and sometimes do) destroy the rest of the body in the process of waging war on cancer cells.
As we've touched upon in many other articles, holistic and natural medicine is superior to many conventional approaches simply because it restores the entire body-mind system to balance.
Systemic balance isn't something that's achieved overnight, though—it's a balanced state that must be sought daily with alifestyle and mindset changes. For a long while, supporters of mainstream medicine would call this kind of logic a cop-out, but an increasing number of studies demonstrate that lifestyle-based healing practices often do outperform drugs and other interventions, all without any side effects.
Here's some prominent examples…
Changing Your Diet: Volumes have been written about the primary importance of diet for maintaining optimal health—the power of consistently maintaining a balanced, nutrient-dense diet simply can't be overestimated.

Recent studies have pitted dietary changes against drugs for the treatment of specific conditions, and have demonstrated that proper diet is more effective for controlling hypertension than the beta-blocker metaprolol,[1] and better at treating Crohn's disease than even high-dose steroids.[2]

Yoga. Despite being pegged as nothing more than an ineffectual fitness fad, yoga has proven itself to be a surprisingly powerful treatment method for a variety of diseases and conditions (its healing benefits have been well-established for thousands of years, but it took a little while for the medical research community to catch up).

Studies have demonstrated that yoga practice is deeply beneficial in the treatment of anxiety, depression, cancer, chronic pain, and hypertension.[3] Other research even shows that it's superior to imipramine for treating depression,[4] and superior to all conventional treatments for irritable bowel syndrome.[5]

Meditation is another practice which has inspired much doubt in the mainstream, despite being revered throughout its long and rich history. Research has now revealed it to be powerful in ways that scientists never imagined. The brains of meditators have higher levels of grey matter, which makes them "better at controlling their attention, managing their emotions, and making mindful choices,"[6] and meditation even physically reshapes the brain in beneficial ways.[7]
Meeting Western medicine on its own turf
Despite the virtues demonstrated by the studies cited above, these natural healing practices have been criticized as slow, inefficient, or "unspecific." In contrast, Western pharmaceutical medicine is held up as the paragon of scientific precision—Big Pharma touts itself as the provider of fine-tuned miracle pills perfectly designed to resolve specific ailments quickly and directly.
This viewpoint is misguided for many reasons. First and foremost, it's worth remembering that pharmaceuticals certainly don't deserve the title miracle pills—their efficacy isn't nearly what corporations make them out to be, and the healing they do bring is riddled with side effects and risks.
Even setting aside these flaws for a moment, though, it's patently untrue that natural medicines can't play the same allopathic game as mainstream medicine's beloved laboratory creations. Research has shown that—just like the practices discussed above—many natural remedies are actually more effective than drugs at directly targeting health issues.
Research has shown that—just like the practices discussed above—many natural remedies are actually more effective than drugs at directly targeting health issues.
There's no shortage of examples: turmeric is more effective than drugs at treating a wide variety of diseases, black cumin seed heals even conditions considered "incurable" by mainstream medicine, kava kava and chamomile treat generalized anxiety disorder, Manuka honey fights bacteria better than antibiotics…and that's just the tip of the iceberg.
Green Med Info has put together an entire database of Natural Remedies that are superior to drugs….there are listed over 180 natural substances which have been demonstrated, mostly in preclinical research (for reasons discussed elsewhere), to be superior to their conventional drug counterparts in over 270 different diseases.
Even alternative modalities like hypnosis and acupuncture—derisively called pseudoscientific disciplines by many Western doctors—give drugs a run for their money. Studies demonstrate that hypnosis is more effective than Valium for treating anxiety,[8] and that acupuncture beats drugs in the treatment of sudden deafness,[9] migraines,[10] depression,[11] GERD,[12] gastroparesis,[13] and more.
Integration, not competition
The point is not that natural medicine should replace Western medicine, but that they should coexist—all modalities have their virtues and drawbacks.
With any luck, we'll establish an all-inclusive medical system in the near future—one that values the precision of the medical scientific method (but doesn't tolerate ill-designed drugs that do more harm than good), and one that is open to an integration of natural remedies, alternative practices, and lifestyle design into mainstream medicine.
---
References
[1] http://www.ncbi.nlm.nih.gov/pubmed/6099231
[2] http://www.ncbi.nlm.nih.gov/pubmed/9305483
[3] http://www.scielo.br/scielo.php?script=sci_arttext&pid=S0066-782X2014005040149&lng=en&nrm=iso&tlng=en
[4] http://www.ncbi.nlm.nih.gov/pubmed/10708840
[5] http://www.ncbi.nlm.nih.gov/pubmed/15077462
[6] http://www.mindful.org/the-science/neuroscience/your-brain-on-meditation
[7] http://www.ncbi.nlm.nih.gov/pmc/articles/PMC1361002/
[8] http://www.ncbi.nlm.nih.gov/pubmed/23724572
[9] http://www.ncbi.nlm.nih.gov/pubmed/20942277
[10] http://www.ncbi.nlm.nih.gov/pubmed/12390610
[11] http://www.ncbi.nlm.nih.gov/pubmed/19835116
[12] http://www.ncbi.nlm.nih.gov/pubmed/17875198
[13] http://www.ncbi.nlm.nih.gov/pubmed/17585668