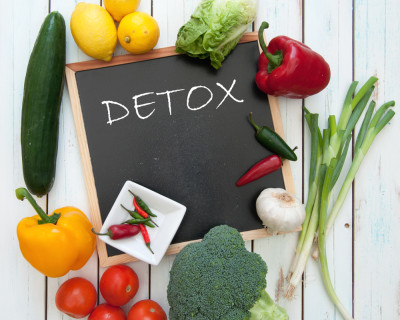 Despite its growing popularity, detoxing is still commonly associated with relatively fringe health circles.
It usually entails the use of "cleanses," "fasts," or other extended practices intended to catalyze a massive release of toxins all at once. These practices also usually require a good deal of time, energy, knowledge, and discipline to do safely and effectively. Unfortunately, these requirements make detoxing inaccessible for most people.
Make no mistake, though: detoxifying practices are immensely important for maintaining vibrant health. We live in a veritable sea of toxins, courtesy of our industrial society's pollutive onward march. You can read about some of the most important toxin sources to avoid here, here, and here.
The moral of the story is this: even if you think you're living healthily, you still need to help your body detoxify, because just existing in the world ensures that you're bombarded by toxins on a daily basis.
The accumulation of toxins in your body will disrupt hormones, enzymes, and even metabolic processes, damage your cells through oxidation, and flood you with free radicals. These conditions lead to chronic inflammation, decreased disease resistance, sapped energy levels, and an extended list of long-term health problems.
Days could be spent cataloguing all the correlations between the increased presence of environmental toxins and the increased incidence of a specific disease and disorder. Just to cite one example: glyphosate—the prevalent toxin in Monsanto's RoundUp pesticide—has been correlated for the development of autism, obesity, gastrointestinal issues, depression, cancer, allergies, Alzheimer's, infertility, heart disease, and more.[1] And that's just one toxin with which our body has to cope.
If all that data still doesn't make intensive cleansing and fasting feel worth the effort, don't worry…there's an easier way.
Turn your body into a detoxifying machine
While it's ideal to set aside time for a conscious and directed detox, you can get most of the job done simply with proper lifestyle design.
The simplest possible practice is to learn about the most dangerous and most insidious environmental toxins, so that you can avoid them. The fewer toxins make it into your body in the first place, the easier your detoxification will be.
Perhaps even more important, though, is the inclusion of detoxifying foods in your diet. Your body is a miraculously designed, self-preserving machine, but it can get bogged down under the weight of our toxic world. Detoxifying foods ensure that it always runs at full capacity, and therefore that it's able to handle whatever comes its way.
With the help of these foods, the body is able to take care of toxins immediately, so that they're not allowed to accumulate and cause systemic issues.
So which foods are most detoxifying?
The number of dietary choices available these days can be overwhelming. So, instead of listing a bunch of seemingly unrelated foods, let's jump into the general principles that can be used as orientation points when planning a detoxifying diet.
First of all, it's important to remember a clean, simple, and consistently healthy diet is superior to an unhealthy diet with a few detox "superfoods" sprinkled throughout it. When in doubt, just always strive to eat lots of living vegetables and healthy fats and proteins, and to minimize your intake of sugars, grains, and other carbs.
When it comes to prioritizing specific detoxifying foods, it's helpful to categorize them according to how they aid detoxification within the body. Two of the most easily identified categories are antioxidants and chelators.
Antioxidants protect your body from the oxidizing effects of toxins, which can lead to a proliferation of disease-causing free radicals. We've written before about some of the world's greatest food sources of antioxidants: turmeric, kale and other crucifers, healthy fats like coconut oil, macadamia nut oil, and avocado oil, probiotic sources like kombucha, pomegranate, coriander seed oil, and even CBD, one of the non-psychoactive alkaloids in cannabis.
Chelators help the process of actually removing toxins from the body (antioxidants simply neutralize their harmful effects, rather than removing them). They do so by binding to toxins and heavy metals, which makes it much easier for your body to excrete them safely. Two of the best chelators around are marine algaes called spirulina and chlorella, which are the top sources of chlorophyll (the green pigment in plants).
Lastly, there are some multi-talented foods and compounds that fit into both categories. Raw cacao is one of the most powerful antioxidants on the planet, and because of its vasodilatory effect, it also helps flush toxins by opening up blood flow throughout the body.
And vitamin C is another miracle worker. It works as an antioxidant in its own right, and also helps the body synthesize glutathione, the most powerful endogenous antioxidant. While it's not technically a chelator, it optimizes so many of the body's natural detoxification systems that it deserves to be in this "jack-of-all-trades" category.[2] While it's fairly easy to get vitamin C from foods, you can supercharge your detoxification and defense systems by supplementing with higher doses—just make sure to take plant-extracted vitamin C rather than synthetic (it's very difficult for your body to process most synthetic vitamins, and you end up excreting most of them in your urine).
Keeping your system balanced
By eating a clean diet that consistently includes both antioxidants and chelators, you'll be tapping into the innate intelligence of healing foods. This intelligence allows you to optimize your body's own cleaning potential, so that you can avoid the "detox, re-tox" cycle that many of us get stuck in.
Unless you live in an extraordinarily unpolluted area that is equally insulated from toxic consumer products, you might still have to undertake a detox regimen from time to time, in order to keep your system in tip-top shape. But awareness of the toxin sources to avoid, coupled with a little dietary discipline, will go a long way in helping you live a healthy and radiant life unhindered by toxins.
---
References
[1] http://articles.mercola.com/sites/articles/archive/2013/06/09/monsanto-roundup-herbicide.aspx
[2] http://besynchro.com/blogs/blog/9393529-why-detoxing-matters-the-best-simple-detox-strategies