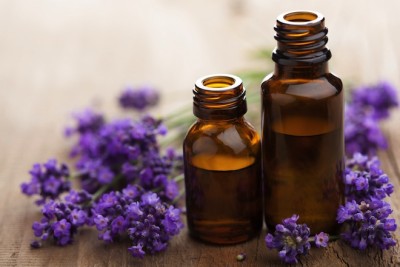 If you have any experience with aromatherapy or other medicinal methods for using essential oils, you've probably come across lavender essential oil.
Lavender is the paragon of relaxation—and for good reason. Its rich, soothing scent cuts right through anxiety, sleepnessness, headaches, and many other symptoms of everyday stress.
But don't let its gentle persona fool you: lavender essential oil is a powerful panacea. Praise for it never usually extends beyond its calming aroma, but in fact, it's a whole first aid kit wrapped into one potent oil. Many essential oil specialists claim that, if you only use one essential oil, you should make it this one!
Essential oils have been used medicinally for thousands of years, and those who have carried these traditions into the modern age have long extolled lavender oil for its incredible variety of health benefits. And much more recently, medical science began to back up these claims with hard evidence.
Here's a handful of research-supported reasons why you should always keep some lavender essential oil handy.
All things calming
Lavender lives up to its reputation as a relaxation agent, even under the scrutiny of scientific research. Study after study confirms that the compounds in lavender essential oil function as an effective nerve relaxant.
This property translates to all sorts of benefits, including decreased anxiety, better sleep, increased cerebral blood flow (and thus improved cognitive function), and overall improved mood.[1] Studies have also revealed that using lavender oil relieved depression in college women and ameliorated the agitation often associated with geriatric dementia.[2]
Many people have even reported experiencing pain relief from lavender essential oil. While the mechanism by which this benefit is conferred isn't fully understood, researchers suspect that quelled inflammation is a byproduct of lavender's nerve-relaxing effects. Rubbing the oil directly into affected areas, or mixing it with lotion beforehand, offers a quick and lasting reprieve from aches and pains.
A worthy weapon against illness and infection
What is less well-known about lavender essential oil is its incredible ability to prevent and fight disease. For starters, it offers excellent immune support, especially when taken internally using an inhaler or vaporizer. Putting four drops of essential oil in 20 milliliters of hot water does the trick too (hold your face over the hot water and inhale the steam).
This remedy also shines after you've already contracted an illness. Studies have shown that lavender is a surprisingly powerful anti-bacterial and anti-fungal agent. It successfully treats even MRSA and staph infections (against which most conventional antibiotics are powerless) [3]. 
MRSA, methicillin-resistant staphylococcus aureus, is becoming commonplace. It originated in hospitals as a result of overuse and misuse of antibiotics and has become symbolic of out-of-control mainstream medicine. The disease created by antibiotics used for treatment of staph infections is often far worse than the original.
Most exciting, though, is that lavender oil has been found 100% effective in lab testing to treat some infections, including MRSA. That means it could be used to treat staph infections that drugs can't touch. This fact alone should make it clear how dramatically underestimated lavender essential is as a legitimate medicine.
You can even apply it topically to clear athlete's foot and other fungal skin conditions, or use a douche made with lavender flower tea to treat vaginal yeast infections (drinking lavender tea during times of greater susceptibility will also help prevent yeast infections in the first place).
Lastly, by balancing the immune system, lavender oil can even reverse hair loss caused by alopecia areata (an autoimmune condition that causes the body's immune system to attack hair follicles as though they were foreign agents). Simply apply essential oil to balding spots every day for at least a couple weeks, and you're bound to see positive results.
All systems go: support for the whole body
The more studies are conducted on lavender, the more benefits are uncovered. Researchers have already linked its use to benefits across many bodily systems.
Respiratory system. When inhaled through steam, lavender essential oil relaxes breathing passages, calms asthma attacks, clears the sinuses, and improves overall respiratory health.
Digestive system. Lavender works as a perfect digestion aid, and improves nearly every aspect of digestive health—studies have shown that it increases nutrient absorption, alleviates nausea, vomiting, and flatulence, and even inhibits the growth of harmful bacteria without hurting your microbiome's beneficial bacteria.
Circulatory system. Part of lavender's calming effect is attributed to its ability to improve your blood circulation. This improvement leads to lots of other secondary benefits, including deeper sleep and greatly enhanced cardiovascular health.
Easy to find and use
Because of its popularity and long tradition of use, lavender is incredibly easy to find. Just make sure to buy it fresh if you choose to work with lavender blossoms (growing your own lavender is also very easy, and it can be found growing in the wild in most temperate zones across the United States).
If you work with lavender essential oil, always use brands that are therapeutic-grade (they're a bit more expensive, but are safer, more effective, and well worth the cost). Before using the essential oil, always apply just a bit to a small area of skin, in order to test for an allergic reaction (they do occur in a very small percentage of people).
Luckily, this incredible natural medicine is widely available to anyone in the United States with the wherewithal to seek it out—unlike in the EU, where lavender is now unavailable without a prescription. Healing herbs and remedies like lavender afford us a special opportunity to take health into our own hands—don't let it pass you by!
Special Report: Apple Cider Vinegar — 81 unique uses including Gout, belly fat, fleas, warts, etc
---
References 
[1] http://www.greenmedinfo.com/blog/lavender-effective-against-drug-resistant-staph-infection?page=2
[2] https://www.mendeley.com/catalog/lavender-oil-treatment-agitated-behaviour-severe-dementia-placebo-controlled-study/
[3] http://www.greenmedinfo.com/blog/lavender-effective-against-drug-resistant-staph-infection