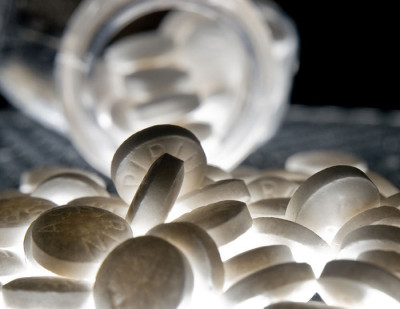 To say that aspirin usage is widespread is an understatement. According to the EPA, over 500 thousand pounds of it is produced in the US every year.[1]
It certainly has its virtues: years of research and experience have demonstrated its consistent effectiveness against headaches, aches and pain, and the prevention of heart attacks and strokes.
The issue, though, is that we've become far too cavalier with how we use it. Easy access and clever marketing campaigns have made aspirin a household name, thus desensitizing us to its dangers and drawbacks. We seem to have forgotten that it's a powerful synthetic drug capable of profoundly impacting the chemistry of our bodies.
We'd do well to heed the words of Paracelsus, a Renaissance physician and philosopher who warned that "the dose makes the poison." Modern research shows that this adage certainly applies to aspirin, which is almost invariably toxic when taken too often.
The case against aspirin
Aspirin, or acetyl-salicylic acid, is a synthetic form of salicylic acid, a natural anti-inflammatory compound found in the bark of the white willow tree. Salicylic acid also functions as a hormone in a wide range of fruits and vegetables (which is one reason why vegetarian-leaning diets are usually linked to a lower incidence of inflammation).
The medical usage of salicylic acid isn't a new development—Hippocrates, an ancient Greek counterpart of Paracelsus, recommended willow bark for the treatment of fevers, headaches, and pains in the 5th century BC.
Our modern, synthetic version of this ancient remedy affects the body in a very different way, though. Unlike salicylic acid, which works naturally with the body, aspirin actually hijacks our blood chemistry and changes the way our red blood cells work. Aspirin "acetylates hemoglobin," which is a nice, sterilized way of saying that it changes our red blood cells into semi-synthetic tissue that creates imbalance in the body.[2]
Because our bodies tend to reject synthetic substances as foreign agents, aspirin can lead to all sorts of nasty health effects, such as gastric ulcers and other stomach issues, decreased immune function and influenza mortality, hearing loss, cerebral bleeding, esophageal lesions, Crohn's disease, Reye syndrome, and Helicobacter Pylori Infection.[3]
Long-term use of aspirin has also been linked to vitamin deficiency, the retention of radiation in the bones, excessive bleeding, and many other health issues. Many of these side effects can be combated by natural remedies—such as pomegranate and sulfur for gastric issues, squalene-containing substances for protection from radiation, and vitamin C for lowering oxidative stress.
Doesn't it seem like a better idea, though, to seek out alternatives that don't cause these problems in the first place?
All the benefits (and more), with none of the side effects
There's plenty of ways to enjoy the benefits provided by aspirin without having to put yourself at risk for side effects and health issues. For example, salicylic acid (which is often sold in the form of white willow extract) has been shown to be just as effective as aspirin at relieving pain.
The most promising aspirin alternative of all, though, is called pycnogenol. This remarkable bioflavonoid mixture, which is extracted from a French pine bark, tackles all the same pain points, with much less risk.
Aspirin is commonly used for pain reduction because of its anti-inflammatory activity. While it does get the job done, this benefit comes with the price of oxidative stress and inhibited immune function. Pycnogenol, on the other hand, relieves pain and increases immune function (it's even been shown to combat Helicobacter Pylori Infection, to which long-term aspirin use is linked).[4]
Aspirin is also used to prevent heart attack and stroke by reducing dangerous blood clotting. Sometimes it works too well at thinning the blood, however—which is why it significantly increases the risk of excessive bleeding. Pycnogenol also effectively reduces platelet aggregation—and even helps prevent a deep vein clot condition called thrombosis—without increasing bleeding time during an injury.
Across the board, pycnogenol not only provides the same benefits as aspirin, but also solves the problems caused by aspirin. It protects you from radiation (rather than encouraging your bones to retain it), it minimizes brain swelling (rather than increasing the risk of cerebral bleeding), and it can reverse or prevent hearing loss by improving micro-circulation between blood vessels (rather than causing hearing loss and tinnitus).[5]
Natural alternatives win again
It's easy to see from the information presented above that choosing pycnogenol over aspirin is a no-brainer. It's important to remember one thing, though: even though pycnogenol is extracted from a plant, it's still a powerful supplement that should be taken in moderation.
After all, when it comes to the prevention and treatment of ailments, there's no substitute for a healthy diet and lifestyle. If you require the specific benefits of aspirin for the time being, though, just know that pycnogenol is a much safer alternative that you will serve you just as well.
---
[1] http://www.toxnet.nlm.nih.gov
[2] http://www.ncbi.nlm.nih.gov/pubmed/237937
[3] http://www.greenmedinfo.com/blog/aspirin-dangers-and-natural-evidence-based-alternatives
[4] http://www.greenmedinfo.com/blog/clone-if-you-fly-plant-extract-could-save-your-life-1?page=2
[5] http://www.ncbi.nlm.nih.gov/pubmed/20657537