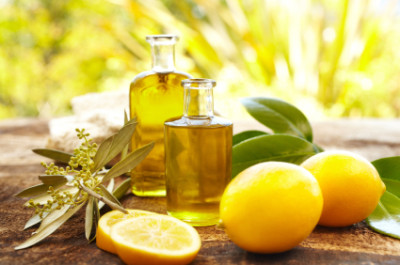 We've written before about the amazing health benefits of essential oils.
You could hardly ask for a more perfect medicine: essential oils are literally the distilled essence of a medicinal (and usually wonderfully fragrant) plant. The ancient art of distillation (which has been practiced for at least 5500 years and counting) delivers a potent and focused version of the plant—the ancients actually considered their oils to be encapsulations of the plant's spirit.
Modern medicine has shied fairly far from this spiritual characterization, but ancient and modern medicine agree that essential oils yield fantastic results when used in a huge variety of applications.
While each essential oil has its own laudable properties, lemon essential oil stands out as a particularly versatile one. At present, there have been over 500 studies conducted on it, and the verdict is clear: it's a powerful tool that should always be kept handy for maintenance of both health and home.
In case you still think essential oils are just for aromatherapy (which can be functional and powerful in its own right, by the way), here's a brief tour of lemon essential's benefits.
Cleanser extraordinaire
Lemon essential oil is best known for its cleansing qualities. It's been incorporated into many natural cleaning products because of its utility as a disinfectant, surface cleaner (and polisher), and grime remover. You can even use it with your laundry detergent (just add one drop) to leave your clothes extra clean and wonderfully scented.
And the cleansing potential of this essential oil definitely isn't limited to your home—it also works as a detoxification agent on nearly every level of the body. It stimulates lymph drainage and supercharges the body's natural detox system (whether consumed or rubbed on the neck with coconut oil).
Use it to disinfect your hands, mix it with baking soda and honey to make a deeply nourishing face wash, or add it to your homemade toothpaste to combat bad breath and improve oral health (mixing it with coconut oil and using the mixture for oil pulling works great too).
A study published in the International Journal of Food Microbiology even suggested that lemon essential oil has the strongest antimicrobial activity of all essential oils—meaning that it's capable of cleansing your body of even the most virulent pathogens.[1]
Digestion and metabolism
Lemon essential oil is also a godsend for stomach health. It aids digestion, balances gut flora by killing only harmful bacteria (it's even been shown to protect against E. coli and salmonella when added to food), and acts as a great remedy for abdominal and colic pain, nausea, and upset stomach. One study even showed that within two days, it can reduce the nausea and vomiting associated with pregnancy by up to 33%.[2]
It also works wonders for your metabolism, which means that your body is better able to absorb available nutrients and put them to good use.
A well-functioning metabolism is also able to run steadily and efficiently, which translates to greater weight loss. Amazingly, simply smelling the scent of lemon essential oil has been shown to increase the ease with which the body can break down fat. Adding just a couple drops to your water at least three times per day will provide even greater support for both weight loss and general digestive health.
Disease and stress resistance
Given that this healthful essential oil is potently detoxifying and microbiome-supporting, it should come as no surprise that it offers excellent immune support and builds stress resistance. It contains powerful antioxidants like d-limonene (some analyses report that it contains up to 70% of this disease-fighting, and even cancer-fighting, compound).
Many people have used lemon essential oil to drastically speed up their recovery from colds and flus (or prevent them in the first place). Once again, just add a couple drops to your drinking water throughout the day.
It's also been shown to combat depression, anxiety, and other mood issues—after all, mental and emotional health, too, are often a matter of developing the proper adaptive resistance to environmental stressors. Studies have shown that lemon essential oil significantly boosts energy levels, and even improves depleted levels of dopamine (a neurotransmitter often targeted to treat depression and other disorders).[3]
In Review: Top 10 Lemon Essential Oil Uses
Laundry – In case you leave your laundry sitting in the washer too long, just add a few drop of lemon EO and your clothes won't get that nasty smell.
Teeth Whitener – Mix lemon essential oil, baking soda and coconut oil and rub on your teeth for 2 minutes and then dense as a natural teeth whitener.
Clean Hands – Got greasy hands from working on your car or bike and regular soap isn't doing the trick? No worries, just add a couple drops of lemon EO with your soap and get your clean hands back!
Natural Disinfectant – Want to steer away from alcohol and bleach to disinfect your countertops and clean your moldy shower? Add 40 drops lemon oil and 20 drops tea tree oil to a 16-oz spray bottle fill with pure water (and a little bit of white vinegar) for a traditional cleaning favorite.
Face-wash – Lemon essential oil uses for skin can can improve your complexion and leave your skin soft and supple.  Lemon oil benefits skin by deeply nourishing.  You can make lemon oil with baking soda and honey for a natural acne free face wash.
Wood and Silver Polish – A lemon oil-soaked cloth will also help spruce up your tarnished silver and jewelry!  Lemon oil for wood cleaning is also great.
Goo-Be-Gone – Un-stick the sticky goo your kids leave behind with stickers and gum with lemon oil.
Promotes Fat-Loss – Putting 2 drops of lemon oil in your water 3x daily can support metabolism and weight loss.
Improves Mood – Diffusing lemon essential oil in the air can lift mood and fight depression.
Immune Support – Lemon oil can support lymphatic drainage and help your overcome a cold fast, mix it with coconut oil and rub it on your neck.
Getting started
Lemon essential oil is incredibly easy to find, and as we mentioned above, many natural house care products already include it as an ingredient (just remember that it's simple to make your own cleaning products).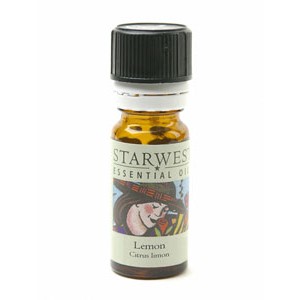 It's hard to go wrong, as long you purchase a high-quality, organic product from a brand that you trust. Check out our favorite organic lemon oil cold-pressed made from fresh organic lemon peels from Starwest Botanicals. With a light fresh citrus scent, this oil is great for use in your
diffuser, the bath, massage, as a food flavorant, in lotion, and as a mouthwash.
Be sure to take advantage of essential oils as a time-tested healing and cleansing agent for health and home.
This practical guide shows how essential oils — used at home and on the go — can greatly improve the quality of busy lives. Colleen Dodt includes dozens of simple recipes featuring essential oils for combating stress, PMS, sunburn, and other common health conditions. She details the uses of essential oils and the powers of aromatherapy at home, at the office, and in the car, and she provides readers with recipes for safe and fragrant cleaning products.

Price: $17.48
---
References
[1] http://draxe.com/lemon-essential-oil-uses-benefits/
[2] http://www.ncbi.nlm.nih.gov/pubmed/24829772
[3] http://www.ncbi.nlm.nih.gov/pubmed/23531112