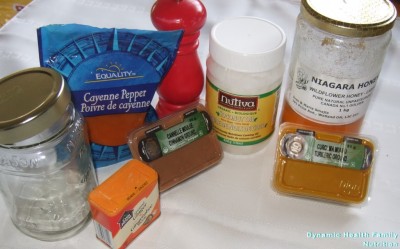 Turmeric (curcumin) is an herb for inflammation and pain that is gaining a lot of attention among natural health practitioners. Turmeric belongs to the ginger family, and is traditionally being used to flavour dishes like curry. Like ginger, turmeric is used to calm inflammation and pain.
In Ayurvedic medicine, turmeric has been studied and used as a medicinal agent for thousands of years. A teaspoon of turmeric powder in a cup of warm milk, used three times daily, is thought to be an effective Ayurvedic treatment for colds and flu.
Recent studies have shown that turmeric decreases the production of substances that cause inflammation, pain and joint damage in arthritis.  It also aids the digestive process.
Turmeric absorption greatly increases if it is consumed together with pepper. That's why this turmeric recipe for inflammation and pain contains both cayenne and black pepper.
This bright orange spread can be consumed straight from the jar (for a total of 1 tablespoon daily) for maximum effects. We love spreading it on toast, at the first sign of a cold, and having it with a cup of hot tea!
Note: Since turmeric has been shown to increase production and flow of bile, those with common bile duct blockage or gallstones should avoid this herb
Anti-inflammatory Turmeric-Honey Spread
9 teaspoons turmeric
1.5 teaspoons ground black pepper
½ teaspoon cayenne pepper
2 teaspoons ginger
1 teaspoon cinnamon
About ¼ cup of coconut oil (or it can be ghee, or both)
About ¼ cup of honey
Put all the spices in a small glass jar.
Melt coconut oil (for easy mixing) and add to the jar to mix.
Add honey and mix.
Store this natural remedy on the counter, for easy spreading and away from heat.
Take one tablespoon per day.
If you like this turmeric recipe for inflammation and pain, please share with your friends!
How to get the most out of turmeric
By all accounts, turmeric really is a miraculous healing tool (the benefits described above don't even scratch the surface of its full potential). There's just one problem: curcumin isn't very readily absorbed by the body, so it's difficult to get its truly therapeutic benefits.
Simply using turmeric as a cooking spice won't give you nearly the amount that you need, and even most powdered turmeric supplements are fairly useless—because they're low-quality and still not very bioavailable.
But this product is different: a turmeric extract made with organic turmeric, and without any nasty solvents. Through a proprietary, state-of-the-art process, the extract is "liposomalized," meaning that each molecule is protected by a fatty bubble, which allows all the plant's goodies to be readily absorbed by your cells.
This formulation takes all that raw turmeric has to offer and presents it in a format that your body LOVES to consume.
This extraordinary extract is even enriched with fulvic acid, which increases the bioavailability of all the nutrients you consume, detoxes the body, balances hydration and mineral levels, and optimizes brain health and cellular functioning. It's a match made in heaven that will leave you feeling radiant and energized.
So whether you're searching for the most powerful way to use turmeric as an anti-cancer agent, or trying to optimize your health and prevent cancer in the first place… Give this truly revolutionary product a try.
You won't believe how quickly you feel its effects. Once you do, you'll wonder why you didn't make turmeric a part of your daily life a long time ago.