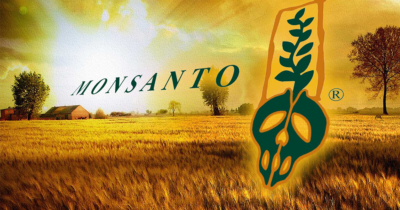 Industrial society has not been kind to our planet. The greed of capitalism, politics, and power dynamics have all but conquered the world, leaving a wake of environmental degradation, sickness, and suffering. The future doesn't look very bright.
The ecological recklessness of our world's corporatocracy is tragic, sick, and insupportable—but this doesn't mean that every large commercial entity is willfully acting in an evil and malicious way. More often than not, ignorance and incompetence are to blame, more so than malevolent conspiracy.
But there ARE Companies for which greed-fueled, destructive decisions are the rule rather than the exception, and which seem to have nearly no redeeming qualities.
Perhaps the prominent example of this breed of company is Monsanto, an entity routinely referred to as "the world's most evil corporation."
In making this statement, it's imperative that you look at the facts and make your own decisions. The rallying cry of natural health and earth-friendly communities everywhere is that Monsanto products should be boycotted without exception.
Read through this primer on the company's history, and you'll probably understand why.
A long line of profitable poisons
Monsanto is most well-known for its glyphosate-containing pesticide RoundUp—currently the most widely used pesticide in the world—as well as their genetically modified seeds and agricultural products. But the company's foray into the world of GMO agribusiness is only its most recent controversial product line.
Here's some examples of some of their other past (and current) projects.
Sweeteners (and military meddling)
Monsanto got their start manufacturing saccharin (Sweet 'N Low) for Coca-Cola. Despite the fact that their own internal studies demonstrated that it's massively toxic (and despite being sued by the government for covering up this information), they proceeded to saturate the market with this poisonous sweetener.[1]

The same goes for aspartame, a later "innovation" that actually was originally developed as a chemical weapon. And if that's not bad enough, they introduced their new poison to the world in partnership with I. G. Farben, the infamous corporation that produced Zyklon-B for the gas chambers of World War II.

During WWII, they were also running the uranium research that was used to build the atomic bomb during the Manhattan Project.[2]

Home care products
Through another shady partnership with G. D. Searle (known for its falsified studies and deep political ties), Monsanto expanded into widespread distribution of a suite of toxic home care products that had been developed over decades—including detergents, soaps, and industrial cleaning products.

The environment is still suffering from the introduction of all these products into society, and we're still struggling as a culture to break our addiction to these miracle home products of the past. Luckily, it's just as easy to make your own non-toxic versions.

PCB's
This era of the company's history also saw the creation of PCB's, which were hailed as "wonder chemicals" with "limited applications," but which have now been banned after fifty years of use, and are widely considered "one of the greatest chemical threats on the planet."[3]
It's hard to deny the facts: there just seem to be no moral boundaries that Monsanto isn't willing to cross in the pursuit of profits and power.
Pathological lies
It would be much easier to maintain a shred a trust in Monsanto if they admitted when research reveals toxicity with their products, or at least admitted wrongdoing (and showed remorse) for past products that have been proven beyond any shadow of doubt to be harmful.
But of course, Monsanto continues to claim that none of its current offerings are toxic—just like they did with all of their past monstrosities, including those that are now banned (like PCB's and dioxin). They've routinely dodged investigations, denied allegations, and weaseled their way out of lawsuits throughout their entire history, never fessing up to any wrongdoing or oversight.
The Monsanto website even features a Myths about Monsanto section called "Just Plain False," where representatives "debunk" all the horrible accusations leveled against the company. For example, they deny any evidence suggesting that GMO foods are unsafe, that Monsanto sells "terminator seeds" that become sterile after one generation, and even that the company has "undue" influence in government.[4]
Volumes could be written about each and every one of these claims—but suffice it to say that there's ample evidence demonstrating that Monsanto is lying.
Because here's the thing: the company has a long history of not only toxin production, but also propaganda and whitewashing. When they partnered with Disneyland in the 1950's to build an exhibit called "The House of the Future," they openly claimed that all the house's materials were completely biodegradable, even though it was built entirely out of toxic and enduring plastics (which they knew very well are anything but biodegradable).
So what do you think?
Believe it or not, this primer still barely scratches the surface of Monsanto's toxic endeavors over the years—and it accounts even less for the rampant cronyism and political maneuvering that the company uses to get whatever it wants, whenever it wants.
So should you boycott Monsanto products and projects? The choice is yours, but here's our personal decision: to whatever degree possible, we're steering clear of anything with which this frightening and powerful company has ever been involved. The world deserves better.
---
References
[1] http://www.naturalnews.com/054760_Monsanto_Dirty_Dozen_chemicals.html
[2] http://www.globalresearch.ca/the-complete-history-of-monsanto-the-worlds-most-evil-corporation/5387964
[3] Ibid.
[4] http://www.monsanto.com/newsviews/pages/myths-about-monsanto.aspx