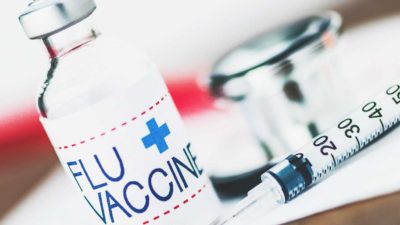 The onset of winter brings the return of flu shots.
Despite the fact that flu vaccine packaging literally says that no one should receive a flu shot who's already had one in the past, these "annual" immunity boosters are thrust upon us year after year. After all, flu shots wouldn't be nearly as profitable if drug companies could only sell one of them per person.
Given the preponderance of evidence demonstrating the dangers of flu vaccines, it's just preposterous that their usage is still so widely accepted.
Given the preponderance of evidence demonstrating the dangers of flu vaccines, it's just preposterous that their usage is still so widely accepted. Drug companies know that consumers would love to believe in miracle medicines that are safe and effective, so this is exactly the propaganda story they craft around vaccines.
Unfortunately, though, flu shots are neither safe nor effective.
As we've discussed in previous articles, they can contain up to 25,000 times the EPA's safe limit for mercury,[1] aluminum, formaldehyde, and sodium deoxycholate (among other toxins).
Flu shots carry the risk of severe side effects (including seizures, nerve paralysis, and limb paralysis), and evidence suggests they increase the risk of Alzheimer's and other forms of cognitive degeneration.
One flu vaccine manufactured by Novartis even killed nineteen people within 48 hours of administration. If this all sounds worrisome, brace yourself—because Novartis's newest flu vaccine just might be the worst one yet.
Flu Shots are Toxic
If any of the above comes as a surprise to you, it's probably because the vaccine industry works exceedingly hard to keep the public convinced that flu shots (and other vaccines) are completely safe. There's even increasing evidence that they have the CDC in their pocket.
Dr. William Thompson, who worked as a senior vaccine safety scientist as part of the CDC's Vaccine Safety Branch, reported in 2014 that the CDC coerced him and his colleagues into committing scientific fraud, manipulating study data, and destroying evidence—all to cover up the connection between autism and the MMR vaccine [4]. And that's just one example of such corruption.
Meanwhile, Novartis has released a brand new flu vaccine, FLUAD, for the 2016-2017 season. This one is intended for individuals over the age of 65. Despite the fact that the elderly are much more prone to both vaccine side effects and influenza complications, it seems the vaccine manufacturer has made no moves to make its product safer.
The new flu shot no longer contains thimerosal (the preservative that sent mercury tests of past vaccines through the roof), but it still contains formaldehyde, as well as barium, a heavy metal that's easily as harmful as (or more harmful than) mercury derivatives.
This new flu vaccine also has a ridiculous litany of frightening side effects (all of which are openly listed on the company's website), including pain, redness, skin irritation, headaches, muscle soreness, fatigue, malaise, influenza (yes, flu vaccines can give you the flu), cellulitis, and more.
The list quickly moves into more serious, life-threatening "side effects," like convulsions, anaphylactic shock and other severe allergic reactions, blood and lymphatic system disorders, and permanent nervous system disorders such as Guillain-Barre syndrome (wherein the immune system attacks and breaks down your body's nerves, leading to tingling, weakness, and even paralysis).
And on top of the toxins already mentioned, Novartis has added even more worrisome substances to the mix: neomycin (an antibiotic that severely interrupts microbiome activity), polysorbate 80 (a surfactant linked with infertility,[2] cancer, and more), and squalene (an additive that can lead to massive immune dysfunction).
Squalene in particular deserves further unpacking. It's included as an "adjuvant," a substance intended to amplify the immune system's response to whatever is being vaccinated against (influenza, in this case). On its own, squalene is actually a tremendously beneficial antioxidant—we discussed its radioprotective and anti-cancer properties in previous articles.
But once again, through misapplication, Big Pharma has turned a beneficial substance into something detrimental. When injected as an adjuvant, squalene can cause massive, long-lasting immune dysfunction (like Guillain-Barre syndrome and other disorders characterized by confused and overactive immune activity).
A study in the American Journal of Pathology demonstrated that squalene used as an adjuvant induced rheumatoid arthritis in rats after a single injection.[3]
Some health experts even believe that squalene-containing anthrax vaccines used during the Gulf War were to blame for Gulf War syndrome (a condition with symptoms that look much more like vaccine side effects than PTSD or other disorders commonly brought on through military service).
It's just not worth it
Vaccines just aren't getting any safer, but the solution is simple: don't buy into Big Pharma's vaccine propaganda any more. Ignore the flu shot hype and promotional offers (I noticed that my local CVS is currently offering 20% off anything else you buy when you get a flu shot).
The evidence clearly shows that the risks of flu shots far outweigh the benefits—the health risks of getting a flu shot are much greater than those associated with actually getting the flu. And the kicker is that flu shots are only marginally effective at preventing the flu anyway!
Stick to natural protocols for preventing the flu, like frequent vitamin D supplementation, homeopathic remedies, and high-dose vitamin C. Learn more about how to prevent and treat influenza safely and effectively, without vaccines.
---
References
[1] https://www.epa.gov/dwstandardsregulations
[2] https://www.ncbi.nlm.nih.gov/pubmed?orig_db=PubMed&cmd=Search&term=Food+Chem+Toxicol+%5BJour%5D+AND+183%5Bpage%5D+AND+1993%5Bpdat%5D
[3] https://www.ncbi.nlm.nih.gov/pmc/articles/PMC1850095/
[4] https://www.focusforhealth.org/dr-brian-hooker-statement-william-thompson/