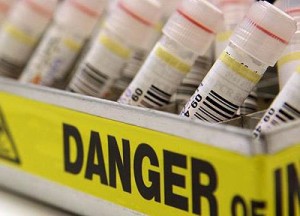 As winter approaches, anxiety surrounding the dreaded influenza reaches a fever pitch (no pun intended).
And given that our mainstream medical establishment is obsessed with waging war on germs and pathogens, the solution that they offer is simple: pump you full of antibiotics if you're already sick, and pump you full of vaccines if you're not sick yet.
Vaccines have been treated as a godsend—a flawless miracle of modern science—ever since their inception. The flu vaccine is no exception. Critiquing it is tantamount to Luddism or "anti-progress" dogmatism, as is evidenced by the ostracism to which their opponents are often subjected.
And yet…there are many things about the flu vaccine that are worth critiquing.
In fact, it poses outright dangers that, in many cases, are downright terrifying. And worst of all, no one in charge seems willing to admit that anything is wrong.
In this case, we'd do best to adopt the qualities of open-mindedness and self-reliance, because no one else is going to protect us.  
But if flu shots are offered at every corner drugstore (sometimes even for free), and if the majority of the populace is unconcerned, there must be nothing wrong with them…right?
Unfortunately, this couldn't further from the truth.
Remember what you learned about peer pressure when you were a kid? Just because everybody's doing it, doesn't mean you should too. Here's five proven reasons why you should get out of herd mentality and avoid the flu vaccine at all costs.
It's filled with mercury and aluminum
Awareness about the mercury in vaccines almost became common knowledge, but it was quickly subdued by industry propaganda.
If you quote this fact nowadays, most people will reply that mercury was removed from all vaccines long ago. This is precisely what vaccine manufacturers would love for you to believe, but it's just not true.
A recent round of independent testing confirmed that the flu vaccine contains mercury at a level of 51 parts per million—which is a shocking 25,000 times higher than the EPA mercury limit for water.[1]
To put it another way: everyone's worried about the mercury content in fish these days, but the confirmed amount of mercury in the flu vaccine is 100 times higher than in the most mercury-contaminated fish every discovered.
The same test also found dangerously high levels of aluminum, another heavy metal that is detrimental to the body. Both mercury and aluminum have been linked with miscarriages, birth defects, brain dysfunction, and organ failure (just to cite a few).
And worst of all, all toxicity data for these heavy metals is based on oral consumption or dermal absorption. Vaccines are injected directly into the body, which makes its toxicity potential dramatically higher.
It's proven to contain noxious chemicals that destroy your health
As though these facts about heavy metal content weren't bad enough, here's the kicker: mercury content is admitted right in the package insert.
That nifty insert admits some other things too.
For example, it tells us that the flu vaccine also contains formaldehyde and  sodium deoxycholate, both of which are powerful neurotoxins.
The dangers of these destructive ingredients are spelled out right on the packaging, which warns that the vaccine can cause anything from vomiting and sweating to seizures, nerve paralysis, and limb paralysis.
The risks are so high that concordantly, the packaging advises that no one should receive a flu shot who's received one in the past. So much for getting flu shots every year!
Good thing nobody reads all that fine print, right? Otherwise, the public might actually get wise to the very real dangers posed by vaccines.
There's one risk that not even the sneaky package insert admits, though. And even if the foregoing hasn't convinced you to head for the hills if someone offers you the flu vaccine, this next fact might do the trick…
It can kill you within 48 hours
In December 2014, a flu vaccine manufactured by Novartis killed nineteen people in Italy—and all of them were dead within 48 hours of being administered the vaccine.
Even the gnarly chemicals and heavy metals mentioned above would have a hard time killing someone this quickly. Thus, some researchers believe that woeful quality control must have overlooked massively high levels of heavy metals or deadly viruses that weren't properly inactivated.
This tragedy sends a pretty clear message: pharmaceutical companies don't care about your health or your safety.
Death is one "side effect" that will be fairly difficult for spin doctors to cover over with propaganda, but they'll do their best—so remember these facts the next time anyone tries to tell you that there's nothing hazardous about vaccines.
The vaccine in question was banned for only a short while, after which "extensive testing" supposedly exonerated Novartis. The company, along with its many industry supporters, has returned to its usual "there's nothing dangerous about vaccines" chorus. Independent researchers and members of the natural health community remain deeply skeptical, though.
It may not even prevent the flu
Sure, there are risks involved…but at least you won't have to worry about getting the flu, right? Wrong.
The good old package insert says the following: "There have been no controlled trials adequately demonstrating a decrease in influenza disease after vaccination with Flulaval," and that "safety and effectiveness of Flulaval have not been established in pregnant women, nursing mothers or children."[2]
In fact, the numbers are so unconvincing that some pharmaceutical companies have even been caught fabricating vaccine efficacy data (as evidenced by the False Claims Act filed against Merck by two former virologists).[3]
It seems to be at the center of a frightening cover-up
So how is it possible that there's this much evidence demonstrating the dangers of vaccines, and yet authorities (and unconvinced members of the populace) remain adamant about their safety?
It's often ill-advised to jump to conclusions about conspiracies, but it's fairly difficult to avoid doing so in this case.
It's obvious that mercury and aluminum are purposefully being added to the flu vaccine, that there are clear and adverse dangers associated with vaccines, and that these facts are being ruthlessly covered up.
The best case scenario is that all those involved in the manufacturing and distribution of vaccines care only about their profit margins (regardless of how much their products damage your health).
The worst case scenario is even darker—namely that vaccines (toxins and all) are specifically intended to be harmful, in order that they may bring some malevolent plan to fruition.
Either way, doesn't this sound like a situation from which you'd like to remove yourself?
Stop letting yourself be poisoned
Our world may be full of environmental toxins that are hard to avoid, but this is one toxin source that's easy to banish from your life.
Show Big Pharma and all the other unscrupulous players in the vaccine game that you won't stand for their lies, insensitivity, and negligence. Prove to them (and yourself) that you can maintain optimal health just fine (or better) without their toxic wares.
---
References
[1] http://naturalnews.com/045418_flu_shots_influenza_vaccines_mercury.html
[2] Ibid.
[3] http://www.naturalnews.com/036328_Merck_mumps_vaccine_False_Claims_Act.html