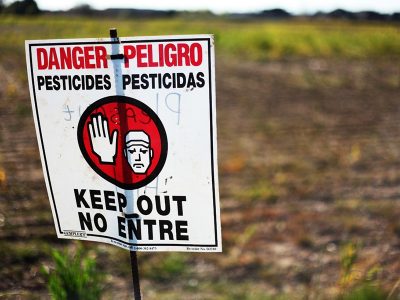 A federal appeals court recently ordered the Environmental Protection Agency to ban the entire class of chlorpyrifos-containing pesticides in the United States. The decree, while still subject to further delays and appeals, marks a major victory for environmental and public health groups.
This is not the first time these pesticides have been banned. As we reported in a previous article, the EPA overturned a ban on chlorpyrifos in March 2017. The decision was largely carried out by Scott Pruitt, then administrator of the EPA under the Trump administration (his own staff at the EPA recommended that chlorpyrifos-containing products be taken off the market).
Throughout his tenure, Mr. Pruitt was the targeted recipient of intense lobbying on behalf of the pesticide industry—a cozy relationship that led to lavish spending, family favors, and other ethical scandals. Since the summer of 2017, Mr. Pruitt has become the subject of no less than thirteen federal investigations into these "legal and ethical violations," and has since resigned.[1]
The recent ruling by the United States Court of Appeals for the Ninth Circuit was issued in response to a lawsuit filed by environmental groups shortly after the commercial ban was rejected by Mr. Pruitt. The court ruled that there was "no justification for the E.P.A.'s decision in its 2017 order to maintain a tolerance for chlorpyrifos in the face of scientific evidence that its residue on food causes neurodevelopmental damage to children," and ordered the agency to enact a ban with sixty days.[2]
Studies show adverse effects on childhood neurological development
The EPA still maintains that their staff has been unable to "access" sufficient data to warrant an outright ban of chlorpyrifos, but most experts agree that this stock response is nothing more than a stall tactic originally conceived by Mr. Pruitt. There most certainly is sufficient data to warrant concern over chlorpyrifos toxicity, especially in children.
For example, one study carried out by researchers at the Columbia Center for Children's Environmental Health reported "evidence of deficits in Working Memory Index and Full-Scale IQ" in seven-year-old children who had been exposed to chlorpyrifos-containing pesticides for all or most of their lives.[3]
Another study published in the journal Neurotoxicology examined the effects of prenatal exposure to chlorpyrifos, and found it to be correlated with mild to moderate tremors in children, as well as an increased risk of more serious movement disorders.[4]
Despite the EPA's reluctance, environmentalists are celebrating
The EPA hasn't yet made it clear what their next action will be. The agency reserves the right to request a reconsideration of the Ninth Circuit's ruling, to ask for an extension on the chlorpyrifos ban deadline, or to appeal to the Supreme Court.
As mentioned above, representatives still claim that they require more data in order to make their decision. Agency spokesman Michael Abboud stated that "the E.P.A. is reviewing the decision," and explained that "the Columbia Center's data underlying the court's assumptions remains inaccessible and has hindered the agency's ongoing process to fully evaluate the pesticide using the best available, transparent science."
While loyalty to genuine, evidence-based science is certainly an admirable sentiment, the slowness of the E.P.A.'s actions is still strange. After all, the agency's first priority is to protect the health of the environment and American citizens, not corporate interests—one would hope that any evidence that chlorpyrifos adversely affects children would spur at least some degree of swift regulatory action.
Despite these ambiguities, though, environmental activists view the Ninth Circuit's ruling as cause for celebration.
For starters, the current ban is more all-encompassing than the one rejected by Scott Pruitt in 2017—it prohibits not only commercial household uses of chlorpyrifos (e.g. as an insecticide), but also all industrial use on farms. The previous ban still allowed farmers to legally use chlorpyrifos, a caveat with which environmentalists took issue, given that the chemical's adverse effects have been shown to be especially pronounced in the children of farming families.
If the ban is enacted, it will be a huge blow to pesticide companies. Over fifty different crops—including a variety of fruits, vegetables, nuts, and grains—are grown using chlorpyrifos-based pesticides. According to the California Department of Pesticide Regulation, a whopping 640,000 acres of California farmland was treated with such pesticides in 2016 alone.[5]
Regardless, the Ninth Circuit's ruling serves as a beacon of hope to many environmentalists who had begun to believe that not even the Environmental Protection Agency could be trusted to, well…protect the environment. The ruling demonstrates that evidence-based science and targeted activism, coupled with a well-functioning judicial system, can still triumph over corrupt politics and corporate cronyism.
With any luck, by the time farmers throughout the United States plant and harvest their next round of crops, law will require them to do so without toxic, chlorpyrifos-containing pesticides.
---
References
[1] https://www.nytimes.com/2018/07/05/climate/scott-pruitt-epa-trump.html
[2] Ibid.
[3] https://ehp.niehs.nih.gov/1003160/
[4] https://www.ncbi.nlm.nih.gov/pubmed/26385760
[5] https://www.cdpr.ca.gov/docs/pur/pur16rep/chmrpt16.pdf