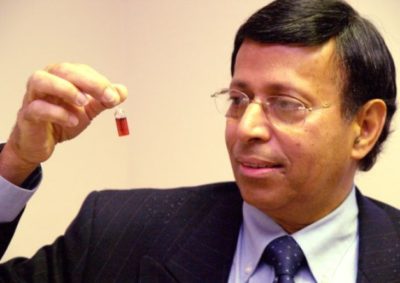 We've written previously about the many benefits of vitamin B12, as well as the dangers of being deficient in it.
A growing number of physicians believe that vitamin B12 deficiency is to blame for a wide variety of chronic and degenerative conditions, including depression (and other mood disorders), multiple sclerosis, dementia, infertility, autoimmune dysfunction, cancer, autism, and more.[1]
One such doctor is Dr. Joseph Chandy, a controversial figure who's made it his quest to show how a simple vitamin B12 supplementation regimen can resolve enduring health problems that affect millions of people around the world.
While practicing in India more than forty years ago, Dr. Chandy noticed a commonality amongst his fatigued and depressed patients: they were vegetarians, and thus far more prone to vitamin B12 deficiency (since meat, fish, milk, and eggs are the most direct food sources of it). To test his hypothesis, he began giving his patients vitamin B12—the results were so remarkable that he has dedicated himself to this work ever since.
Dr. Chandy noticed a commonality amongst his fatigued and depressed patients: they were vegetarians, and thus far more prone to vitamin B12 deficiency
After later moving his practice to the UK, he integrated vitamin B12 more deeply into his treatment protocols, with a particular focus on providing vitamin B12 injections for those suffering from depression, chronic fatigue, and multiple sclerosis.
He since has treated hundreds of patients, and his results are nothing short of miraculous. Patients who had battled severe depression and chronic fatigue for years were brought completely into balance (and taken off all pharmaceutical medications) with vitamin B12 injections. Some MS patients were even able to leave their wheelchairs after being told they were doomed to a life of immobility.   
And in many cases, these successes were not slowly and subtly gained over time, but rather were immediate—one woman with MS named Catharine Iceton recounts being able to get out of her wheelchair the same day she received injections. Dr. Chandy believes that vitamin B12 is so vital for the human body that injecting it during a time of severe deficiency can have an effect similar to watering a wilted plant.
You can learn more about Catharine's story, as well as Dr. Chandy's work, in this BBC mini-documentary.
Easy fixes are threats to the medical establishment
Dr. Chandy's work drew a lot of attention from the mainstream medical establishment, who undoubtedly weren't happy about his inexpensive and highly effective treatment. Big Pharma rakes in nearly 10 billion dollars every year from prescription antidepressants,[2] and MS treatments can cost individuals up to 50 thousands dollars a year.[3]
It's no surprise, then, that Dr. Chandy's affordable B12 shots pose a huge threat to these highly profitable sectors of conventional medicine. Medical authorities have attempted to block every step of Dr. Chandy's progress, claiming that his methods are dangerous and unproven (Dr. Chandy has never observed a single side effect in any of his patients, and cites his abundance of success stories as proof of the treatment's efficacy).
From the very beginning of his work with vitamin B12, the National Health Service refused to offer reimbursement, forcing him to pay for supplies out of his own pocket. When that wasn't enough of a deterrent, a local health authority banned him from treating his patients with B12 injections.
Months of public outcry and enthusiastic support from his many happy patients helped to lift the ban, but a higher medical authority (the General Medical Council) later banned him not only from offering vitamin B12 treatments, but from treating chronic fatigue syndrome in any way.
"This is what happens when you challenge the establishment," Dr. Chandy says. "I think they know I am right, but I am challenging the old thinking, the antiquated thinking."[4]
This brutal pushback from the medical mainstream demonstrates that you we have a long way to go before the health of the populace is regarded more highly than profit. But don't let that stop you from taking advantage of all the benefits of vitamin B12.
Take matters into your own hands
Dr. Chandy's fate may have frightened some pioneering doctors into steering clear of vitamin B12 (at least as a treatment for specific conditions). But there's nothing preventing you from having your vitamin B12 levels tested and starting your own supplementation regimen.
If you suffer from depression, fatigue, or MS, you should get tested as soon as possible. Even if you aren't exhibiting any specific symptoms, it's still a good idea to know your B12 levels, as even slight deficiencies can lead to massive issues down the road.
Dr. Chandy actually found that some of his patients with severe conditions were within the "normal" range of B12 levels set by the medical mainstream. 200 pg/ml (sometimes even 150 pg/ml) is considered completely normal, whereas Dr. Chandy treated anyone under 300 pg/ml. Even some mainstream sources now admit that some individuals display symptoms of deficiency up to 500 pg/ml.
Though B12 injections aren't viable for many people, you can improve your B12 levels just as effectively by seeking out a supplement that is liposomally delivered. This formulation process increases the absorption of vitamin B12 by up to twenty times, and will ensure that you receive all the benefits this essential vitamin has to offer.
---
References
[1] https://chriskresser.com/b12-deficiency-a-silent-epidemic-with-serious-consequences/
[2] https://www.statista.com/statistics/242644/revenues-of-top-depression-drugs-in-the-us-2011-2012/
[3] http://www.everydayhealth.com/multiple-sclerosis/treatment/costs-of-ms-treatment/
[4] http://www.thejournal.co.uk/news/health/acclaimed-county-durham-doctor-banned-7387569