Are you Irish?

Or just love celebrating St. Patrick's Day and all the history that comes with it?

St. Patrick's Day is celebrated all around the world!

You don't need to be Irish to love the tradition of St. Patrick's Day…
The Irish have observed this day as a religious holiday for over 1,000 years, however celebrations began more worldwide a bit later. Records show that a St. Patrick's Day parade was held on March 17, 1601 in a Spanish colony in what is now St. Augustine, Florida.

St. Patrick's Day is celebrated on behalf of Saint Patrick, who lived during the fifth century. He is the patron saint of Ireland and is also its national apostle. St. Patrick's Day is celebrated annually on March 17, the anniversary of his death in the fifth century.
Now, people celebrate in all different ways. Boston even dyes their river green!
Some will go out with friends- sing and dance the night away! While others may decide to stay home and celebrate traditionally with a hearty Irish feast.

However you celebrate, there is no denying that St. Patrick's Day is a fun and creative holiday.

So for those choosing to stay home- we have a tasty treat for you.

Do you like popcorn and love St. Patricks' Day?

Why not combine the 2?

That's right!

St. Patrick's Day Candied Popcorn!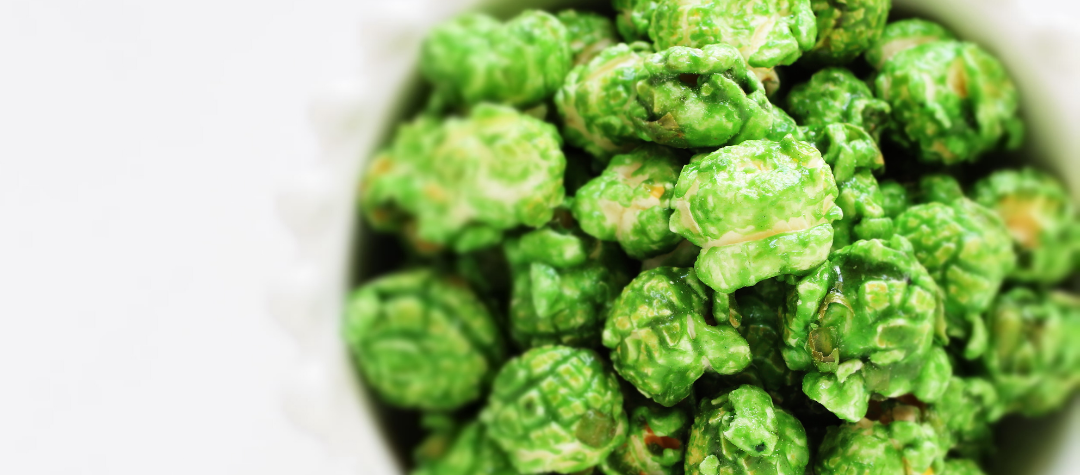 Popcorn is one of the most popular U.S. snacks- so it seems fitting to put a fun twist on it!
Let's get started with the ingredients you will need:
4 quarts popped plain popcorn (this can be from kernels you popped on the stove or ones you popped in a popcorn machine!)
1 cup sugar
1/2 cup packed brown sugar
1/2 cup water
1/2 cup light corn syrup
1 teaspoon white vinegar
1/4 teaspoon salt
1/2 cup butter (this can be vegan butter or margarine as well)
8 to 10 drops green food coloring
Candy thermometer (this is crucial because if the candy mixture gets too hot it will easily scorch and turn brown)
Alright- let's move on to directions!
Place the popcorn in a large roasting pan (or any other similar pan you have on hand). Keep warm in a 250° oven. 

While the oven warms the popcorn- in a large heavy saucepan, combine the sugars, water, corn syrup, vinegar and salt.  Then- cook the mixture and stir over medium heat until the mixture comes to a boil. Cook while stirring occasionally, then with your candy thermometer- test the mixture- you will want to ensure it reads 260°. Once that temperature is reached- remove it from the heat; stir in butter until melted. Then stir in food coloring. Drizzle over your warm popcorn and toss to coat it all over. Cool. Break into pieces and then store in an airtight container. And of course- ENJOY!!!

You can even add more flavor by adding some nuts to make a little tasty mixture! If you find some of the ingredients are too sweet for you- make any substitutions you feel fit for you and your tastebuds!

Now, granted this treat is a little on the sweet side- but it is just a holiday indulgence for St. Patrick's day- so not to feel too guilty about making it! A tasty treat is good for us every now and then!

So get popping- and enjoy your St. Patrick's Day- however you decide to celebrate!