Somehow, summer is already coming to an end and it's time to head back to school. And maybe it's time for you to head back to the office as well. Either way, things can get hectic as everyone's schedules fill up. When that happens, eating and getting proper nutrition can, unfortunately, fall by the wayside.
But don't worry! We've got you covered.
Here are three healthy on-the-go snacks for your busy schedule:
Quick & Yummy Protein Balls
With such busy schedules, it's important to pack lunches and snacks that can tie us over until dinner. Check out this simple 3-ingredient protein bite recipe that can be made the night before — or even the morning of — a busy day.
What you need:
Food processor.
1 1/2 cups tightly packed pitted Medjool dates.
– Medjool dates (from the date palm tree) contain iron, potassium, copper, Vitamin B6, magnesium, and more calcium than other dates.
1/3 cup creamy sunflower seed butter (or raw tahini)
1/2 cup rolled oats or shredded coconut.
Optional:
Shredded coconut to roll the finished protein bites in.
1/4 teaspoon fine sea salt for taste.
What you need to do:
With processor turned on: add the dates and process into a large ball.
With processor turned off: use a spoon to break up the mixture into clumps.
Add in sunflower seed butter, shredded coconut, and sea salt if using it.
Turn on processor and mix ingredients into a sticky batter.
Turn the machine off and pinch off dough and roll into bite-sized balls between your palms. If dough sticks to your hands, wet your fingers with water.
Arrange balls on a flat plate or baking sheet lined with wax paper.
Optional:
Roll the balls in extra shredded coconut for an added touch.
Storage:
Place in the fridge or freezer to firm up a bit. In an airtight container, these balls will keep in the refrigerator for up to four weeks and for up to six months if frozen.
Homemade Juice Smoothie
If you want to be healthy on-the-go, you have to do what you can. When heading out into the world, it's important to protect your body. This smoothie is a great way to help boost your immune system for all the back-to-school germs your child may encounter!
And to top it off, you don't even need a juicer!
Recipe serves 1.
What you need:
1-2 large peeled oranges
½ medium banana
1 cup of mango pieces (fresh or frozen)
½ cup almond milk 
¼ tsp vanilla extract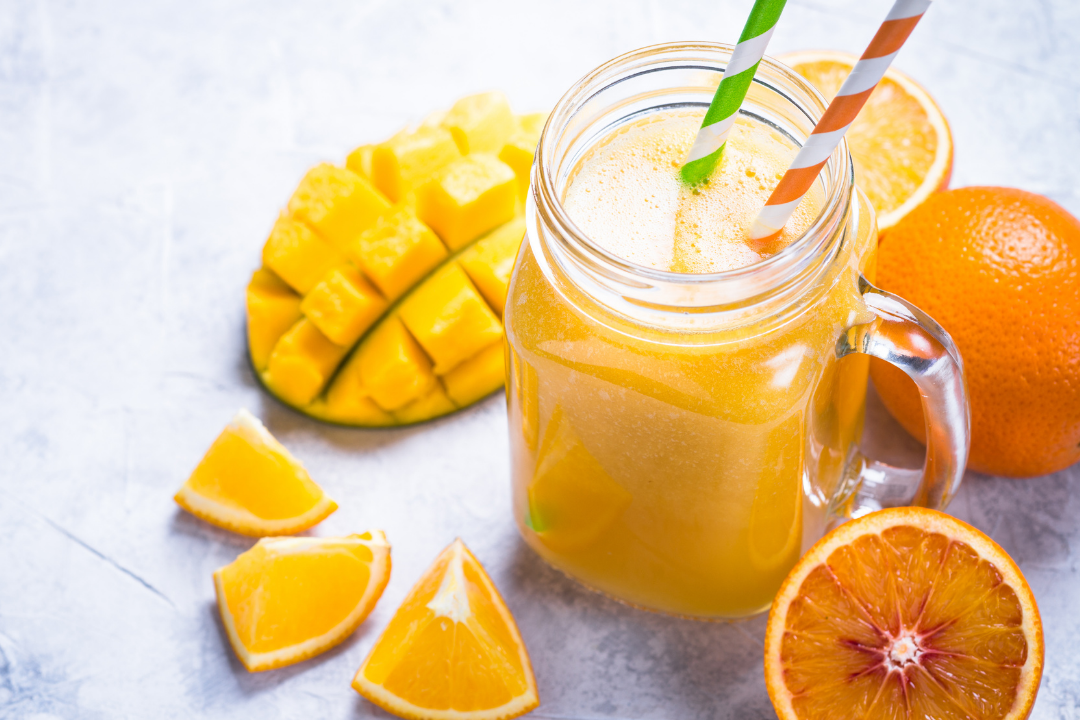 What you need to do:
Place all ingredients into a blender and blend until smooth.
Pour into a serving glass and enjoy immediately, or store in a sealed mason jar for tomorrow's lunch!
Filling Fruit Bars
Want one more healthy on-the-go snack idea? These simple fruit bars should do the trick. These taste like a treat, but are loaded with nutrients and energy! With ingredients like fruits and nuts, they really pack a punch.
What you need:
1 cup nuts of your choice, raw or roasted.
3/4 cup dried fruit of your choice (dried cherries, dried apricots, raisins, etc).
1 cup (12-15 whole) pitted dried dates, preferably Medjool.
Optional:
For extra flavoring add ¼ cup shredded coconut or chocolate chips. Add 1 tablespoon crystalized ginger, ground cinnamon, or lemon zest for an added touch.
What you need to do:
Roast nuts at 350°F for 10 to 12 minutes or until fragrant and golden. Cool before using.
In a food processor mix the dates, dried fruit, and nuts until combined.
Turn processor onto pulse to break up the mixed ingredients. Pulse until they form crumb-sized pieces.
Turn processor back to mix until the dough forms a ball.
Transfer dough onto wax paper and form a 8 x 8 inch square or press into a square baking dish.
Put dough in the fridge to chill for one hour.
Once mixture is firm, cut into 8 large bars or 16 small squares.
Storage:
Keep bars covered or wrapped in wax paper. Eat immediately, store in the fridge for several weeks, or put in the freezer for up to 3 months.
Enjoy!
We hope you like these healthy on-the-go recipes that will help you power through your day!
Happy snacking!