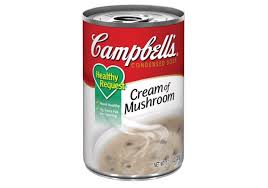 Chemically Processed Highly Refined Vegetable Oil: High in polyunsaturated fatty acids and potentially harmful on a cellular level
Modified Food Starch: A highly processed starch that contains maltodextrin (often used as a name to hide the presence of MSG)
Monosodium Glutamate: A food additive and excitotoxin that may interfere with natural neurotransmitter production
Soy Protein Concentrate: A toxic derivative of soy
Other bad ingredients: such as Soy Lecithin, Yeast Extract and "Flavoring"
In addition, despite the "Cream" on the label, canned soup has very little actual cream. Cream is the 9th ingredient on the list, after vegetable oil, processed flour, MSG and other questionable items. And it isn't even real cream! It is actually "Dehydrated Cream" containing milk and soy lecithin as a thickener.
These ingredients alone should be a big motivator for you to make your own homemade cream of mushroom soup!
This recipe is made with fresh mushrooms (use organic) and real food ingredients.  Using only 10 ingredients total… you can make extra and keep it in the freezer for easy meal prep at a later date
Homemade Cream of Mushroom Soup

1 pound fresh mushroom
1 onion
¼ cup butter
1 teaspoon salt
½ teaspoon pepper
2 cloves fresh garlic, minced
2 tablespoons arrowroot powder
1 quart chicken broth or vegetable broth
½ cup heavy cream, (organic)
½ cup sour cream, (optional)

Instructions

Chop mushrooms and onion and mince garlic.
Melt butter in a large pan and add chopped mushrooms/onions and garlic.
Saute until translucent and cooked.
Sprinkle with salt and pepper. Sprinkle with arrowroot.
Add broth and simmer until it starts to thicken (about 10 minutes).
Add cream and sour cream and stir in until smooth. To go dairy free, use heavy coconut milk instead.
Serve as a soup or use as cream of mushroom soup in recipes.
Great for Holiday Recipes, or for a cozy dinner on a cold winter night.
Make some today!